How does Infusionsoft really stack-up against the competition in terms of features and pricing?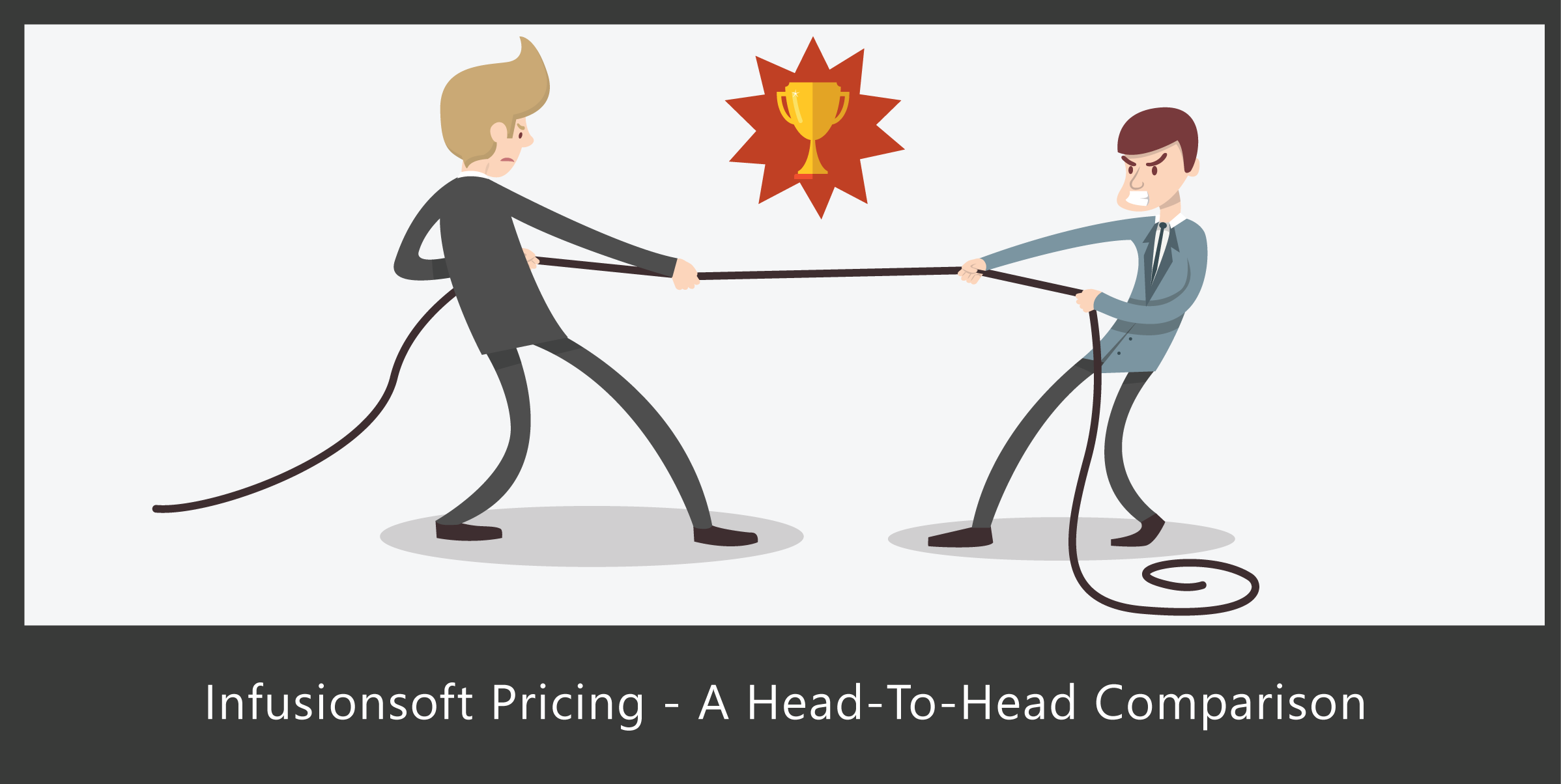 Choosing an automated CRM solution for your growing company can be a daunting task. There is definitely a ton of confusion in the marketplace as to which one will give you the best value for your investment.  And of course there's also the element of committing to integrate it into your system and processes.  In this post, you'll learn how CRM solutions like Infusionsoft can automate your marketing, sales, fulfillment, finance and HR. You'll also learn about how our Infusionsoft Pricing stacks up against the competition.
I will say that Infusionsoft, while we think it is absolutely the best solution for automating your marketing, sales and fulfillment, is not the easiest to figure out.  It's not an out of the box solution by any means and very often needs professional help from our Infusionsoft Certified Consultants and Partners to customize it for your company.  However, in the end, it will make you significantly more profit with a lot less HR time.
________________
There is quite a bit of information in this post but you may have another idea of what you want to do with your valuable time, here are some great options:
Most of the details about how we became the leading Certified Partner In Canada, please visit this web page.
If you want to train your team on life-cycle marketing and using CRM solutions, you may qualify to have the government pay for it… now that's exciting stuff! Take a look at this.
If you already know Infusionsoft is right for you, and want to get started now call our Infusionsoft Canada Hotline at 416-444-3396.
________________
There are a lot of factors to consider when choosing a CRM.  For example;
How does the software meet the needs of your company?
How much work does it take to get it set up?
Can you use it to do your marketing?
Will it help to automate your sales?
Where does it stack up in comparison to other products on the market in terms of cost and value?
When it comes to choosing a higher-end CRMs like Marketo, Salesforce or Infusionsoft, is pricing a factor?
Since we believe in providing people with the best information to make an informed buying decision, we've done our homework on this one. And as marketers, we've learned from experience that Infusionsoft is easily one of the most effective CRM systems on the market for small and medium sized business who want to capture customer information and market to them on a consistent basis.
However, as business people, we also understand that you probably want to know what else is out there, and to help make your decision a bit easier, we did a little digging. We used the information we gathered to create the following comparison chart on Infusionsoft pricing compared to other CRM competitors. Review this chart first, then continue to read more about our findings in a bit more detail below (Click on the image to view full size).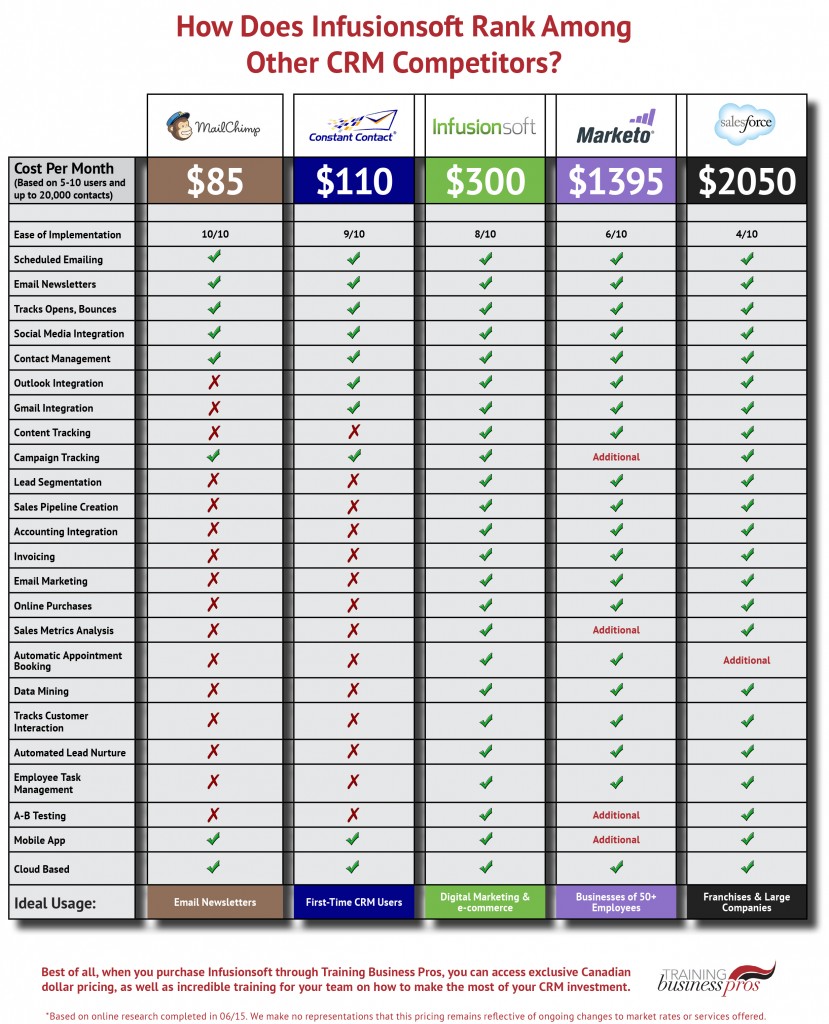 If you take a close look at the number of check-marks on the left of the chart, then the right and then the middle, you'll notice that you'll get more check-marks on the right than the left.  But if you look at Infusionsoft in the middle, you'll obviously get the most value. Initially, that's why we decided to go with Infusionsoft, because it handled pretty much everything we wanted to do and did it with an attractive price.
Not only does Infusionsoft come with all of the features on the chart out of the box that Salesforce and Marketo do, but Infusionsoft pricing is all inclusive. Salesforce requires you to pay someone to make any changes to your current system, unless you buy their unlimited package. Unless you are a blue-chip company that outsources all of your marketing anyway, you can save yourself a lot of money by managing your CRM in-house.
For a small to medium sized business that is in growth mode, the clear choice based solely on the numbers is Infusionsoft.
Are There Different Infusionsoft Packages for Different Businesses?
Most of the time there is standard Infusionsoft Pricing.  But that doesn't mean we can't negotiate some bundled deals from time to time.  Here is our standardized pricing but you'll have to connect with us first to find out what's the right solutions for your growing business.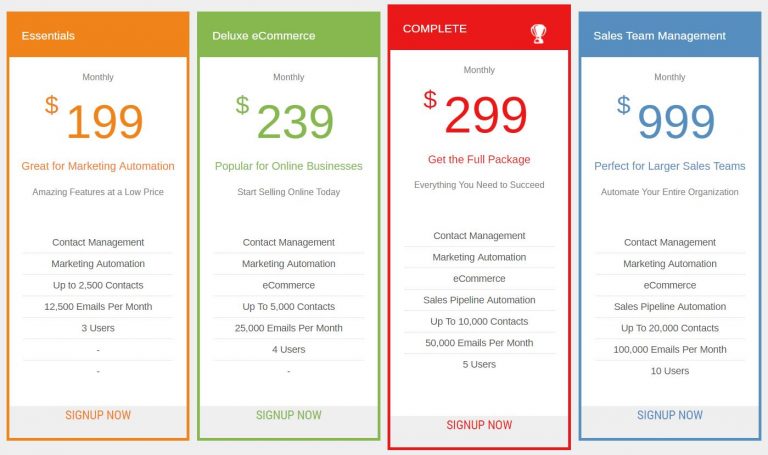 So Why Should You Invest In an Infusionsoft Marketing & Sales CRM vs Autoresponder?
At this point you may be saying to yourself, "But why can't I use Mail Chimp or Constant Contact… won't they do just as good a job?"
NO… they won't.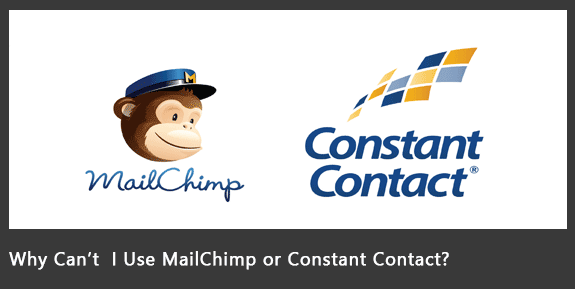 Sure, you might be looking to save a couple bucks and for that reason Mail Chimp or Constant Contact might be a good start. They are okay if you want to send out email newsletters and stay top of mind with your customers. However, it's what they don't do that'll make you want to consider Infusionsoft, Salesforce or Marketo.
While an autoreponder system like Constant Contact can send emails, an email that is sent through the advanced Infusionsoft system can track the behaviors of your audience. Infusionsoft is a data-mining & customer behavior tracking system.
Start Thinking Executive Dashboard
What is an executive dashboard?  It is a is a computer interface that displays key performance indicators (KPIs) that company leaders need to rely on to make spending decisions on marketing, sales and other processes. It is real time information that allows you to see how your marketing and sales are doing, such as where you should focus your advertising dollars. Stats Canada recently came out with a staggering statistic.  It turns out that 86% of Canadian companies have no Executive Dashboard whatsoever.  When you think about it, that's the sort of Business Intelligence that you need to make smarter decisions.  If there were an argument for using a Marketing & Sales CRM vs a simple autoresponder, that is it!
The following screenshot from an Infusionsoft Executive Dashboard shows you the KPI's associated with various campaigns such as "new optins" through to "booked appointments" and more.

What About The Learning Curve?
One of the key pain points in implementing a CRM solution is the time it takes to get it set up. It isn't like you purchase your license, hit play, and leads start dripping in. There are pages to create, emails to write, campaigns to set up.  It's for sure a pretty steep learning curve.
But to quote a Kevin Costner movie… if you build it, the sales will come.
Yes it's easy to set up Mail Chimp or Constant Contact. You throw up a form on your site, write a couple emails and away you go. But Infusionsoft allows you to segment your leads, and communicate with them about what they want, not what you assume they want. Infusionsoft is not an autoresponder. If you use it correctly, it can be the hardest working, most profitable employee on your team. And it costs way less than a full-time salesman.
Think about it this way…
Imagine for a moment how many emails you write every day. If you're a service-based company, it's probably a lot. If you're selling a higher ticket product or service, people shop around. You have to provide quotes, do consults and email your leads. It isn't an instantaneous sale.
Now imagine if you spent a little bit more time writing that email, but you only had to do it once. You set it up, and any time someone asks for a quote, your system can automatically generate it, send it to the client, and even follow up with them to see what they thought, without you lifting a finger.
The same goes for companies with less expensive offerings. You can automate your ability to deliver your products, and take the stress off of your team, meaning you can sell your goods to a greater number of people, and increase the frequency with which they buy from you.
The good news is, Infusionsoft is one of the few CRM solutions that you can learn to manage by yourself. Salesforce, for example, requires you to have one of their team members make any modifications to the system. Those billable hours pile up quickly. But with Infusionsoft, you can have someone on your team learn to manage it in-house.
Regardless of the time and energy it takes to setup Infusionsoft and integrate it into your business, we can help. We offer training on Infusionsoft in our Online Profit Secrets course. You or someone on your team can learn how to build campaigns that will automatically nurture your leads into lifelong customers. You can even have us build out a sales funnel system for you and train you on how to manage it.
What Other Reasons Are Their For Investing in the Higher Cost CRMs?
Infusionsoft, Marketo and Salesforce are all great for managing your internal systems and processes. You can track the metrics of each member of your team, see what they're working on, assign them tasks, and even create customized dashboards for each of them, to help them keep on top of what matters for them.
One thing that Infusionsoft is great for is onboarding new employees. It can deliver them information on how to get acclimated with your company, including training videos, internal paperwork, etc. Not only can Infusionsoft bolster your sales and marketing departments, but it can take a load off of your HR team as well. We use Infusionsoft extensively ourselves, and we train our clients on how to use it. As you can see from the table above, Infusionsoft pricing is leaps and bounds above the competition in terms of what features you get for the money.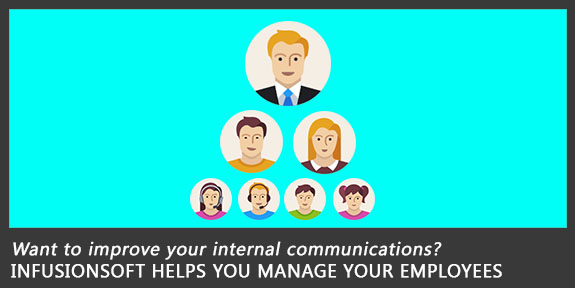 As Trusted Advisors and Infusionsoft Certified Partners, we're admittedly a bit biased. But that's just because we've seen the incredible impact it can have on people's businesses. We purchased Infusionsoft and for a long time, made our monthly donations to them without getting much out of it. However, when we became deeply committed and fully adopted it as part of our systems and processes, we doubled our sales from the previous month.
For more on why it is important to have a well-trained, cohesive team, check out Paul Tobey's LinkedIn article: Are You Making These 10 Massively Detrimental Training Mistakes?
Next Steps?
You've got a few options moving forward. You can try an autoresponder like Constant Contact that comes in at a lower price point, and as your business grows, upgrade. But the time that you invest in it wouldn't necessarily carry over if you decided to purchase Infusionsoft down the road. If you choose Infusionsoft, you only have to do it once, and your business will likely grow faster.
On the other hand, you could buy one of the Marketing CRMs like Salesforce, try it for a while, get frustrated with the thousands of dollars it's costing you, decide that it isn't paying for itself and can it.
What's so appealing about Infusionsoft pricing is that it comes in right in the middle. Yes it's a little more expensive than some, but the features it brings to the table more than pay for themselves. If you want a CRM that will allow you to operate your business in your sleep, and not lose sleep over the cost, there is really no Infusionsoft alternative.
Good News…. Your New CRM Implementation May Qualify for A Gov't Grant
One of the great things about working with our company is that you may qualify to have your training covered by the Canadian government, and if you do, your Infusionsoft kickstart is covered too! Learn more about getting a gov't grant.
When you're ready to see what Infusionsoft can do for you, you can book a phone consult with one of our Certified Partner from coast to coast in Canada.
Best of luck in your hunt for the right CRM for your business, obviously we think that's Infusionsoft but we'll of course leave it up to you.
We welcome your comments below…