How Are We Different Than Your Typical Digital Marketing Agency?
At Business Pros Marketing we believe strongly that the typical digital marketing agency way of doing things is outdated. As a business owner, we recognize that you want a fully functional digital marketing presence and you don't want to wait around forever to get it.
We've assembled and trained a highly evolved team of digital marketing experts to work with you one-on-one to complete a complete digital marketing lead capture and conversion system in only a few days.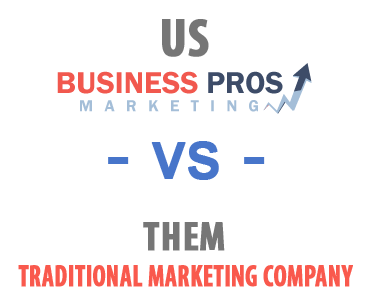 ✓ 
We have standardized pricing for 1, 2 or 3 days of project build time including traffic generation, website design & content & CRM automation.
X
They give an estimate on how long they think it will take and you could end up with a project that takes 6 months to a year to complete or even longer.
✓ 
Our entire creative and coding team is assembled in one spot and we work with your team to build the project and help you learn how to use it.  This significantly reduces miscommunication and misunderstanding.
X
Your project is moved from copywriter to web designer to SEO team, to coders, to traffic team etc. causing huge time delays and you're left wondering what you project will look like and when it will get done.
✓ 
We are the leaders in advanced CRM automation in Canada and we rarely build a digital marketing project without the Infusionsoft automation system.
X
They don't know much about automation and if they do, it won't be setup properly and in our experience will hardly ever work.
✓ 
We have extraordinary and energetic team members who work together in one cohesive unit over the space of a few days where every hour counts.
X
They may have a team, but their members work individually and they bill you for an entire hour even if they only work 15 min.
✓ 
We do it all under one roof. From traffic creation, to lead capture, to automated CRM conversion, to advanced e-commerce websites and more.
X
They are unable and unequipped to handle all facets of digital marketing.
✓ 
We work closely with government funding agencies to get you maximum grant funding  to pay for our services. Up to 83.3% in Ontario and up to 66% in other provinces.
X
They expect you to pay the entire invoice yourself.
✓ 
We are the superheroes of digital marketing in Canada. Our goal is to create exceptional, extraordinary, measurable and uncommon results.
X
They have average players which means average results.
✓ 
We have an amazing highly trained team of experts led by Canada's leading digital marketing expert, CEO Paul Tobey.
X
They have web designers, copywriters and coders who are not trained as marketers.
✓ 
We use advanced search engine formulas derived from Google's new algorithm called UXO.
X
They use dated SEO methodology which no longer works in creating good search engine placement.
It's A Whole New Digital World Just Waiting To Be Conquered
We live in a completely new digital eco-system where our advanced and highly trained team of digital marketing experts work on your project with you, in real time, over the space of just a few days. And while we're working diligently to build your amazing new online sales machine, we're also taking a look at the holes in your current system and plugging them with expert skills and experience.
What Are Your Initial Steps?
Below you'll find several ways to get a quote on your project. However, we typically like to have an online discussion in which we'll review your website and your other digital assets.
We'll ask you questions about where your traffic comes from, and how much traffic you actually have? We want to know how many leads are being captured by your website everyday. We want to know what automation systems you have in the back end to communicate with your prospects and keep them from falling to the cracks.
Once we have a good idea of what your current situation is, we'll suggest little-known areas of opportunity that many of our clients miss completely. Each of these areas of opportunity can increase your ROI by 5% or more. Add them all up and you may end up with a 40% or 50% increase in ROI.  What would that mean to your company?
Once you know your ROI potential, the decision making process becomes much easier. Wouldn't you say?
What Happens When You Make The Choice To Work With Our Digital Marketing Agency?
We immediately schedule a two or three day period to work on your project at our facility in Toronto. We have an amazing studio space where each of our programmers, copywriters, and strategists will be tackling your project and constantly updating their progress on the giant video wall in real-time for you to see.
Once your project is scheduled, you'll be given a complete automated on-boarding procedure to follow. We'll need to know all your logins and passwords, site information, marketing assets, software etc.  All of this is covered in our on-boarding processes.
What Will Our Digital Marketing Agency Strategies Do For Your Company?
Try to imagine a world where every lead that is captured by your website is responded to immediately, along with a marketing and sales automation system that keeps your client in the loop, the company leaders informed, and your team on the ball.
Imagine a world where every lead is never sent more information than they've requested.
Imagine a world where important geographic and demographic information about your target client is automatically mined by your system.
Imagine a world where your web traffic doesn't take immediate action, but is re-targeted in other social media platforms and brought back to the point of action.
Imagine a world where automated tasks are created for you only, if the automation is not followed by the prospect or lead.
Imagine a world where every lead is put through a simple automated qualification process, saving you the time of sifting through the criteria yourself for a good target client.
Imagine a world where all of this is done in just a few days!
Why Do Our Clients Think That We're Superheroes?
It's pretty simple really, we're smart, highly trained, motivated, serious, and super fast!
Wondering how we do things uncommonly fast?  Want the secret?
We work together as a team, rather than dividing up the project between multiple team members.  We're a highly trained cohesive unit that responds to the mission at hand and completes every individual task before moving onto the next. Most of our clients can't believe how fast and diligent we are. That's what makes us different, and that's what makes us superheroes.
Who Is On Our Team Of Superheroes?
Marketing Strategist (one of the best in the country!)

Social Media Content Developer

Web Developer

Infusionsoft Certified Partners

Programmers

Project Manager

Hypnotic Copywriters
What Happens After The Project Is Completed?
Once your initial website build is complete and the digital automation campaigns are created, you will be assigned a project manager who absolutely loves what they do and loves taking care of clients.
In the beginning, we'll need about seven days to review the work, test all campaigns, and review the copywriting. We'll work with you make any changes that you request. Once this process is complete your site and campaigns are ready to go live.
Most clients opt for a month-to-month service contract so that we can optimize your traffic and lead capture campaigns to drift more leads into your bucket.  We'll work with you to build new landing pages, optimize your CRM campaigns, and help devise any new marketing strategies.  Most of our clients actually buy this package as if it were an insurance policy. Even if they don't use up all their hours they like to have us on call for when things either go wrong or opportunities need to be capitalized upon. If you need us, we'll be there.
Do You Need the Business Pros Marketing Superhero Team?
If so call us today at 416-444-7767 OR Click here for a more than competitive quote.
Our Customers Love Us
Don't Just Take Our Word For It, Read It From Them
Okay we get it, you may be highly analytical, or even skeptical, and you absolutely require some proof of how well our mission critical systems are functioning.
We expected that. In fact, we have a secret webpage full of proof. We used to publish this proof online, but we realized that our competition started calling our clients, so we now keep the proof hidden from view.
If you want to access this proof you'll have to give us your name and e-mail address. Once we establish that you are an existing business and you are not our competition, we'll send you the password to our page full of proof where we share the "BEFORE" and "AFTER" results.  It's pretty cool.
And if you want to see some real-time proof, where you can actually see leads coming into one of our clients buckets in real-time, some of our clients have given us limited permission to share their marketing with you. You'll have to get on an online meeting so that we can show this to you. Or you can visit our studio in Toronto for a live demonstration. During these demonstrations you can see real-time visitors take action on our websites, leads dripping into the advanced CRM systems, conversion campaigns with actual people in them, and more. Sounds pretty exciting right? It is. All you have to do is book some time with us.
This All Sounds Expensive, Is It?
Quite possibly yes, and in the interest of clarity, we don't actually accept every client who wants to work with us. But instead of focusing on what it might cost we'd prefer you to think of it in terms of, "what's your return on investment?"
The fee for our Deep Dive Implementation Team is $10,000 per day. But there is some great news for Canadian clients: Your company may qualify for a massive refund on these costs through one particular Canada Grant program. In fact, you could get between 66% & 83.3% of your entire investment back, depending on which province your business is in. And so far, 98% of our clients have qualified for this same grant and some clients have received refunds of more than $40,000.
Is There A Learning Curve For Our Company To Use What You Build For Us?
Yes, but we will help you adopt and learn the technology. Our sister company, Training Business Pros, are the leaders in Digital Marketing Training in Canada. In fact, since the company's inception in 2007 they've trained over 50,000 business owners and entrepreneurs. Your advanced learning can be done via live courses, online video training modules, and event HD Livestream training. We can even send our trainers to your company, it's up to you. We make it as easy as possible for your team to learn what we've built for you.
8 Convenient Ways To Connect With Us
There are 8 different ways that you can move the needle on your digital marketing needs today. It's a pretty good bet that one of these strategies will work for your individual needs. All you have to do is choose which one works best for you.
The Business Pros Radio Show on AM640


Tune In Sunday Mornings 9am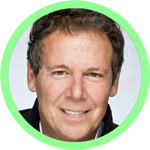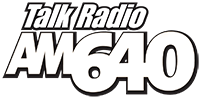 "New this fall on AM640, it's the Business Pros Radio Show with your host Canada's leading digital marketing expert, business leader & best selling author Paul Tobey, CEO of Business Pros Marketing.
Don't miss the 9am Sunday breakfast hour where you'll hear Paul & special guests discuss cutting-edge business trends and battle tested marketing strategies. Call in with your questions or simply listen in to get your business week off to a smashing start.
Visit businessprosmarketing.com for details and special offers. The Business Pros Radio Show Sunday mornings at 9AM on Talk Radio AM 640."
Every Sunday morning starting in September 2016 Business Pros Radio takes to the air with 9am Sunday Breakfast Business Shows on AM640 radio. Tune in to hear awesome guests and industry influencers, super helpful marketing and sales information, current business trends, Internet news and interesting events. The show is super entertaining and filled with high-value information that'll help your business. Call in and ask your question, learn new business trends and strategies and/or call in and comment on the topics of the day.